We understand that pet surgery can be a source of concern for pet owners. Rest assured, our veterinary surgeons are committed to providing the highest standard of surgical care.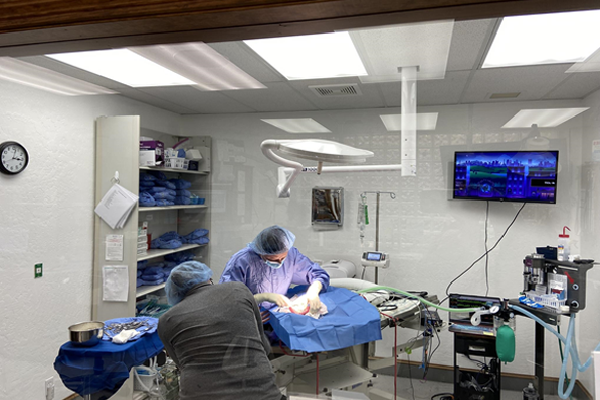 Pet Surgery in Hayden ID
The state-of-the-art facility at Hayden Pet Medical Center is equipped to perform a wide range of pet surgeries, from routine spays and neuters to complex tumor removals and major orthopedic procedures. Your pet's safety, comfort, and well-being are our top priorities throughout the surgical journey. From pre-operative evaluations to post-operative recovery and pain management, our experienced team will be with you and your furry companion every step of the way.
Comprehensive and Compassionate Pet Surgery Services
At Hayden Pet Medical Center, we treat every pet as if they were our own, and our pet surgery services are no exception. Our surgical capabilities include:
Routine Spays and Neuters: Essential procedures to prevent unwanted litters and promote your pet's overall health and well-being.
Tumor Removals: Expert surgical intervention to remove tumors and growths, focusing on early detection and minimizing potential complications.
Orthopedic Surgeries: Skilled orthopedic procedures to address bone and joint issues, including fractures, cruciate ligament repairs, and hip dysplasia.
Soft Tissue Surgeries: Advanced techniques for various soft tissue conditions, such as gastrointestinal surgeries and urinary tract procedures.
Compassionate Pain Management: Pain relief and post-operative care plans are designed to ensure your pet's comfort and successful recovery.
Our compassionate and experienced team at Hayden Pet Medical Center is dedicated to restoring your pet's health and happiness through expert surgical care. We understand that pet surgery can be challenging for both you and your furry companion, and we are here to provide the support and expertise needed for a successful outcome.
Veterinary Services in Hayden Pet Medical Center